Woman Property Intiatives
We create new beginnings for women and children at risk of homelessness by providing permanent and affordable homes, access to support networks and ongoing advocacy.

Donate to help end women's homelessness
Tuesday, 8 March, is International Women's Day (IWD), a global day celebrating the social, economic, cultural, and political achievements of women. The day also marks a call to action for accelerating women's equality. This is always a special day at WPI. A time to reaffirm our commitment to fight for equality and to end women's homelessness.
The IWD theme this year is #breakthebias. According to the Work Economic Forum's 2021 Global Gender Gap Report it will take 135 years for us to achieve gender equality, a timeframe drastically increased by the pandemic. IWD is a day to highlight that there are steps that we can all take in our daily lives to accelerate the pace of gender equality. The women of WPI wanted to share some of the ways in which they seek to #breakthebias and advance gender equality.
Part of breaking the bias is to address the inherent, financial disadvantage that women experience due to gender inequality. This disadvantage is experienced at every age and stage of a woman's life and directly impacts their access to secure and affordable housing.
Can you help us break the bias by making a donation to help vulnerable women and children find secure homes that will enable them to live happy and healthy lives.
Our Lastest News
Older Women's Housing Project
We are thrilled to see progress made on our Older Women's Housing Project pilot in Beaconsfield. This four-home development is now well underway after some significant delays due to COVID-19. The slab is down, and work is continuing on site. These beautiful homes, designed by Studio Bright, will provide an opportunity for women over 55 …
Read more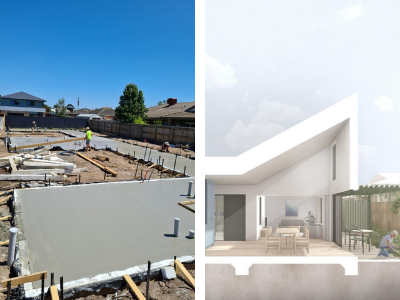 Read more of the post Older Women's Housing Project
20 new apartments to be delivered in 2021

Construction is nearly complete on new apartments in Bundoora. WPI will be able to offer 10 apartments in this development to women and children, early in 2021. The apartments are conveniently located and offer excellent access to services. Construction at Nightingale Village is also moving swiftly. We will offer nine apartments across two of the …

Read more

Read more of the post "20 new apartments to be delivered in 2021"

With land donated to WPI by the Scalzo family, and generous contributions from Lend Lease Future Steps Foundation and ISPT, the Victorian Homeless Fund and Dennis Family Homes are building another house for WPI in Mt Atkinson in Melbourne's west. This will be a five-bedroom home to accommodate a larger family. The demand for affordable …

Read more

Read more of the post "Mt Atkinson House"

Six new homes complete in Melbourne's south east

WPI's six home development in Melbourne's south east is now complete. They look amazing! Surrounded by parkland, these homes were designed by Schored Projects and built by SJD Homes. They will accommodate six local families experiencing housing crises, many of whom are escaping family violence. Stage 4 Restrictions present big challenges for our Tenancy and …

Read more

Read more of the post "Six new homes complete in Melbourne's south east"